What do Teach First apprentices say about careers education? 
Apprenticeships are a great way to boost your career prospects. Here's what our apprentices have learned during their time at Teach First.
Disadvantaged students have less opportunities after school than their wealthier peers—however, research shows that solid careers education can help improve their odds.
High-quality careers education can make all the difference to young people from disadvantaged backgrounds, who often have less access to quality information and opportunities than their more affluent peers. Very few who are eligible for free school meals go onto to further education, employment or training. We need to ensure that every child, irrespective of their background, leaves with qualifications and the right guidance to boost their chances of success after school. One option for further education is apprenticeship.
Apprenticeships offer learning 'on the job' experiences, such as networking opportunities, ongoing support from the employer, peer-to-peer support. This also includes 'off-the-job' training, where apprentices spend time learning the skills needed to become competent in their chosen occupation.
Apprenticeships aren't just for those who are new to the workplace. This route is a great option for people of all ages to launch their careers in a range of exciting industries or upskill at various levels.
At Teach First we're using our apprenticeship levy so that our people can find an apprenticeship right for them, making sure they have the skills and knowledge needed to grow in their roles. Here some of our current apprentices share how this experience is helping them in their career journey.
Meet the apprentices
Name: Brendan Mayers
Role: Engagement Coordinator (Marketing and Comms)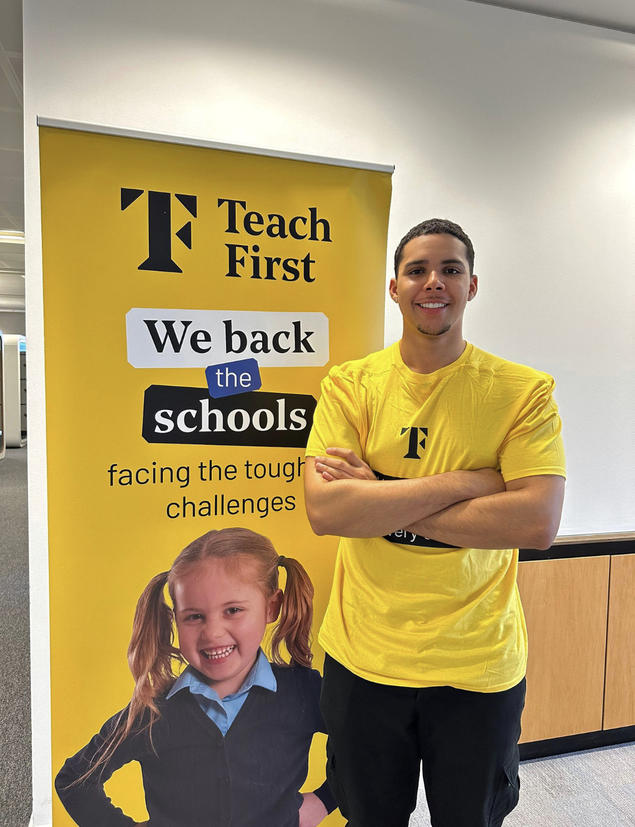 I grew up in, Loxford, one of the most income deprived neighbourhoods in East London. I was always surrounded with deprivation and hardship. Poverty was prevalent within my local community and many of my friends struggled to stay in school. Thinking about a career after school didn't come easy to me. I had friends who went to university to study teaching and computer science, but this wasn't the norm for most of my peers. I decided to go to university because I thought it was the best thing to do at the time. School taught me that university was the traditional next step to take in education, but after my first year I soon realised it wasn't for me.
I took the initiative to apply for a fully-funded digital marketing apprenticeship at Teach First. The apprenticeship role was for an Engagement Coordinator and it instantly appealed to me. I knew that I could use my first-hand experience of education within a deprived community, to help spread the message that all disadvantage children deserve an education that helps prepare them for a successful future.
I have a positive outlook about my career prospects now, but this wasn't always the case. I didn't receive any extensive careers support from school. I had to arrange my own work experience, without any guidance. Like many schools serving disadvantaged communities across the country, mine did not have the funding or resources to prioritise careers education. This needs to change, so young people like me leave school with the right skill, qualifications, knowledge, and guidance to boost their chances of success.
I know my careers journey isn't uncommon. There are many young people like me who struggle to know exactly what they want to do after school. I know people in my year group who struggled to find employment and, in some cases, fell into 'the wrong crowd'. So, I wasn't surprised to learn that 1 in 4 young people eligible for Free School Meals (FSM) in Year 11 will end up Not in Education, Employment or Training (NEET) between the ages of 18 and 24, which is double the proportion of their more affluent peers.
By investing in careers education and working alongside businesses, the DfE can close this 'destinations gap' but it needs to start early. Teach First's report Rethinking careers education: Investing in our country's future sets out Teach First's proposals in more depth.
Name: Azia Dualeh
Role: Digital Communications Coordinator (Network Development)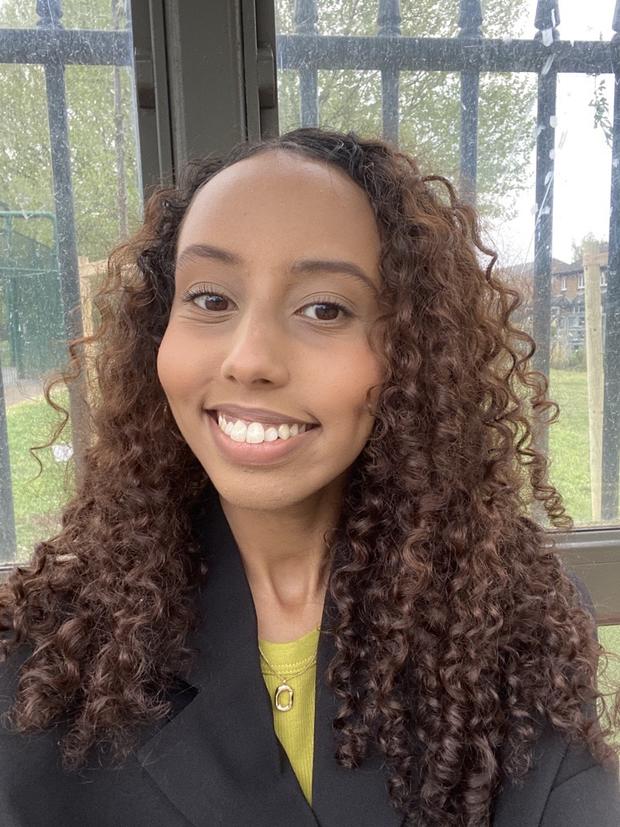 Before I joined Teach First, I wanted to become a teacher so I enrolled to study Education at university. My career plan was to complete my degree, and then complete a PGCE to start teaching.
At school, we're encouraged to take the traditional route and go to university. Apprenticeships were spoken about briefly, but it wasn't seen as an option that would expand your skills and knowledge in the same way university does. During my brief time at university, I realised the learning style wasn't for me. Despite completing placement, I didn't feel like I gained much from it.
I chose to do an apprenticeship because I prefer to learn through a hands-on approach to gain experience. Apprenticeships are great for people who want to go into a specific field and gain the skills on the job, as well as receiving a qualification at the end.
My apprenticeship at Teach First still helps me fight injustice in the education system despite not going through the teaching route. Now I have the skills, experience and qualification needed to go into the role I want going forward in my career. Schools should help disadvantaged pupils think about their careers to motivate them to do well in school, as well as knowing that these career paths are possible.
Name: Efua Owusu-Boakye
Role: Major Gifts Coordinator (Fundraising)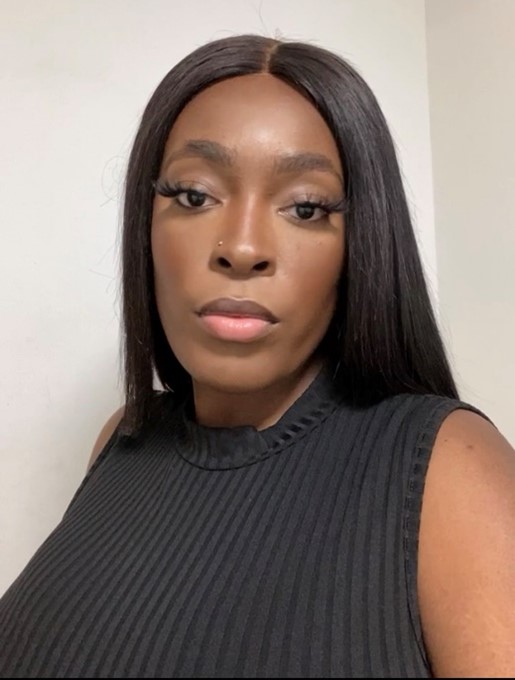 Before Teach First, I was interested in working in digital marketing. I was already at university when I decided that an apprenticeship was better for me. I saw the role advertised for Philanthropy and I was intrigued. I thought it would be interesting to start a career doing meaningful work that makes a difference.
I had careers education at school. There were sessions to discuss different career options with teachers based on our interests, and people from different careers came in to talk about the work that they do.
I chose an apprenticeship because I tried university and realised it wasn't for me. The idea of gaining work experience while learning was one of the main reasons why I made this decision. Learning on the job through an apprenticeship has been very useful, and I feel more prepared for the working world.
Apprenticeships are good because you get to see the theories and knowledge you learn about applied in the workplace. This is such a great way to learn. The best thing about an apprenticeship at Teach First is that there is so much support on your journey. Colleagues and managers help the most they can to ensure your success in your apprenticeship and in your work, also everyone is friendly and welcoming.
This apprenticeship has helped me figure out what I want to do in the future because it's allowed me to see the work that I enjoy doing and the work I don't in order to frame what I'd like to do with my career.
It is important for schools to get the help they need to support disadvantaged pupils with thinking about careers because every child deserves the opportunity to think about their future, basic quality education is great but career knowledge is just as important because it can allow pupils to work towards a goal. The earlier the better, to prevent pupils missing out on career opportunities or doing the work required in time to do what they are interested in, schools supporting pupils to think about their careers is vital.
Employers can play a big role in improving social mobility
Teach First recommends that the DfE takes on board these three recommendations for employers to help improve social mobility.
Back young apprentices by fully funding all 16 to 18-year-olds and removing them from the Apprenticeship Levy.
Large employers should offer inclusive blended work experience programmes for young people from disadvantaged backgrounds.
Large employers should collect and publish socio-economic diversity data.
Schools do their best to prepare pupils for the world of work, but that is not their core purpose. That is why we believe it is essential that employers are involved in shaping the future of careers education.
Interested in becoming an apprentice at Teach First? Check our opportunities on the National Apprenticeship Service.
Find out more about working at Teach First.
Find how your school can access our fully-funded careers training.