"Everybody needs support" - marking Children's Mental Health Week
Supporting children with mental health is more necessary than ever. This Children's Mental Health Week, Teach First ambassador Annabel Harries explains how her award-winning organisation Sweet Education is helping children to connect, while supporting them to achieve BTEC qualifications in Personal Growth and Wellbeing.
My first experience in the classroom was as a teaching assistant in Madrid, Spain. It was during my year abroad in my third year at the University of Essex studying languages. I loved being in the classroom, supporting the students and seeing them grow.
You never really understand what students are going through until you develop relationships with them as a teacher. I got to learn about students' home lives, struggles and personal identities. I felt empowered to support them and learnt that I loved being able to make a difference.
I returned to the UK for my final year of university, where I attended a Teach First career talk and thought it sounded incredible. I wanted to help students who really needed it, and who may not otherwise have access to any support. I started the Training Programme in 2015 at Cantonian High School in Cardiff, Wales. It was a fantastic experience.
I was teaching in Catonian High School when I first became aware of Sweet Education. Its resources were being delivered to a small minority of NEET students (not in employment, education or training). There were probably no more than 10 students on the course at the time.
Now, Sweet's Personal Growth and Wellbeing (PGW) resource is being used by a much greater scale within Cantonian High School – with more than 100 learners completing the BTEC qualification. We learnt about mental health as Teach First teachers, but I think its importance has really grown in the last few years, especially since COVID.
Everyone struggles with their mental health
After three years at Cantonian High School, I had the itch to travel, so moved back to Madrid to work at King's College, teaching English to Spanish-speaking students. I was in Spain for two years, but part of that was in 2020 when COVID struck. I spent several months teaching online, which was a pretty stressful experience for me.
My mental health suffered as I found it difficult being stuck in the house all day, every day. At one point, we were told not to leave the house at all. As an outdoorsy person who loves hiking and walking, that was tough.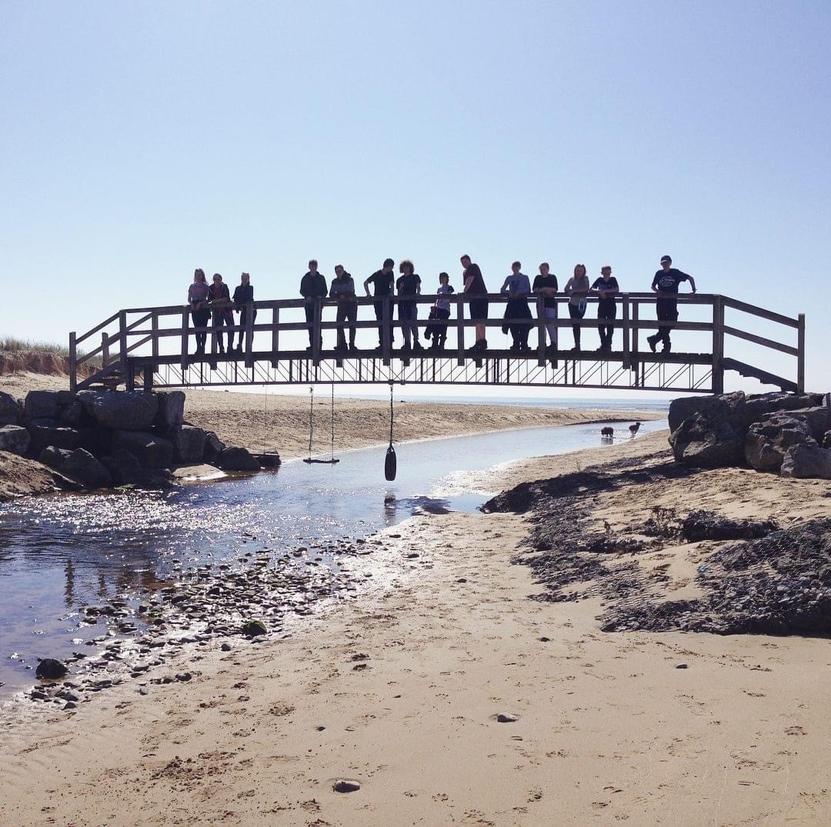 Everybody was looking at screens for eight hours a day. That's not great for adults, let alone children. Throughout the remainder of the school year, I maintained Tutor Time in the morning, checking in with everybody, and offering one-to-one sessions for any student who wanted to share personal concerns. Some students really struggled, particularly those who found home life difficult. They always looked forward to coming into school and the pandemic took that away from them.
Following the COVID pandemic, we're seeing a huge importance being placed on mental health and wellbeing. The PGW resources are being used in more schools than ever before and are now being delivered across whole cohorts of students. Teachers really understand the importance of wellbeing. They know that it's not just the people who put their hand up to say "I'm struggling"; everybody has mental health and needs support and guidance.
What is Sweet Education and how does it help with mental health?
Sweet stands for 'Succeeding With Education, Employment and Training' (the opposite of NEET). It was initially created to target disadvantaged students and those who weren't engaging in education.
Since its inception in 2012, Sweet has evolved hugely. We design various innovative and engaging resources, primarily for students aged 13 to 16. We are best known for our award-winning Personal Growth and Wellbeing resource, which helps students to achieve a Pearson-accredited BTEC level 1 or 2 qualification. Everyone in the Sweet team is an ex-teacher, so we have a genuine understanding of teacher and student needs, and we are always on hand to help.
We now work with over 220 centres across the UK. These centres include mainstream secondary schools, further education colleges, pupil referral units, alternative education provisions and more.
Sweet's resources have supported almost 25,000 students to gain a BTEC Level 1 or 2 qualification in mental health and wellbeing. The resources allow students to develop life skills, improve their wellbeing, and progress to further study and future employment.
Sweet Education's Personal Growth and Wellbeing programme
The PGW resource comprises eight units which teach various skills. The units can be completed as physical workbooks or through our digital platform.
Physical health and wellbeing: this unit teaches about how the right nutrition and exercise can help to promote positive wellbeing. It covers the dangers and consequences of smoking, alcohol and drug use, as well as body positivity, body shaming and more.
Emotional wellbeing: this unit is a deep dive on mental health, and looks at different issues or disorders that you or others you know might experience. It covers self-care and mindfulness, different ways to access support, and different techniques you can try, including references to some great NHS resources. Plus, it examines the ways we can be influenced and the impact of social media on our mental health pressures.
Social health and wellbeing: this unit is about recognising what healthy and unhealthy relationships look like, as well as how to leave those unhealthy relationships and boundaries to put in place. Examples include peer pressure, bullying, and how to support people experiencing these. It also looks at harassment, discrimination, hate crime, and our human rights.
Sexual health and wellbeing: this unit looks at intimate relationships, sexual health, consent, safety, LGBT, and violence against women. We take a good look at the 2021 Ofsted report on sexual harassment in schools. Also covered in this unit is contraception, sexually transmitted infections, pregnancy, and finding your local sexual health clinic to access, if needed.
Personal identity: this unit examines influences: what makes us who we are and what makes us unique. Students also explore topics such as self-esteem, our attitudes, beliefs, values, and what we consider to be really important. It also focuses on empathy, how to respect others, and how to act in certain situations.
Environmental awareness: this unit is about citizenship and how to be a good person. It considers what impact you can have in your community, your responsibilities, as well as educating students on what we can do to protect the environment.
Financial awareness: this unit is extremely important, especially in the current climate with the cost-of-living crisis having such an impact on people's wellbeing. It guides students to make the right decisions with money; it explains the options available and makes recommendations, such as how to budget and how to steer clear of financial risks.
Personal progression: this unit focuses on your long-term goals: where you want to go in the future, careers advice, and next steps to further study or future employment. It includes advice on job applications, interviews, and different avenues for students to consider.
The course is flexible. Students can complete as many or as few units as they are able to. The minimum requirement is one unit, which provides students with a qualification equivalent to a quarter of a GCSE. Students who complete all eight units can achieve the equivalent of a double GCSE at Grade 6 (England) or B (Wales).
What teachers say about Sweet Education's Personal Growth and Wellbeing resource
Teachers love using the PGW because it meets the entire PSHE specification, or Health and Wellbeing Area of Learning and Experience (AoLE) which is the equivalent in Wales. They love how easy it is to use, and that there is no need to plan lessons or create additional materials. Most of all, it gives them the confidence to deliver tricky topics in a comfortable way.
As Head of Sales, my job is to connect with centres and explain the value of the resources. It's always great to talk to schools with positive stories about the resources. Many have seen improved engagement, attendance and behaviour from their students as a result of using the PGW.
Other feedback we've received from teachers includes:
"We were searching for a course for disaffected students, one which would promote a sense of self-pride, self-esteem and a wide range of life skills. Sweet seemed to "fit the bill" perfectly."
"The range of topics covered has been one of the main features I have enjoyed – they help to develop the students' comprehension of matters that they will encounter as they embark on their lives as young adults."
Our resource won an award for national wellbeing
In October 2022, our PGW resource was named Best Education Product of the Year at The Mental Health & Wellbeing Awards in Wales.
Judges were bowled over by the incredible testimonials from Sweet students and schools, which they said spoke volumes about the positive difference the PGW has made.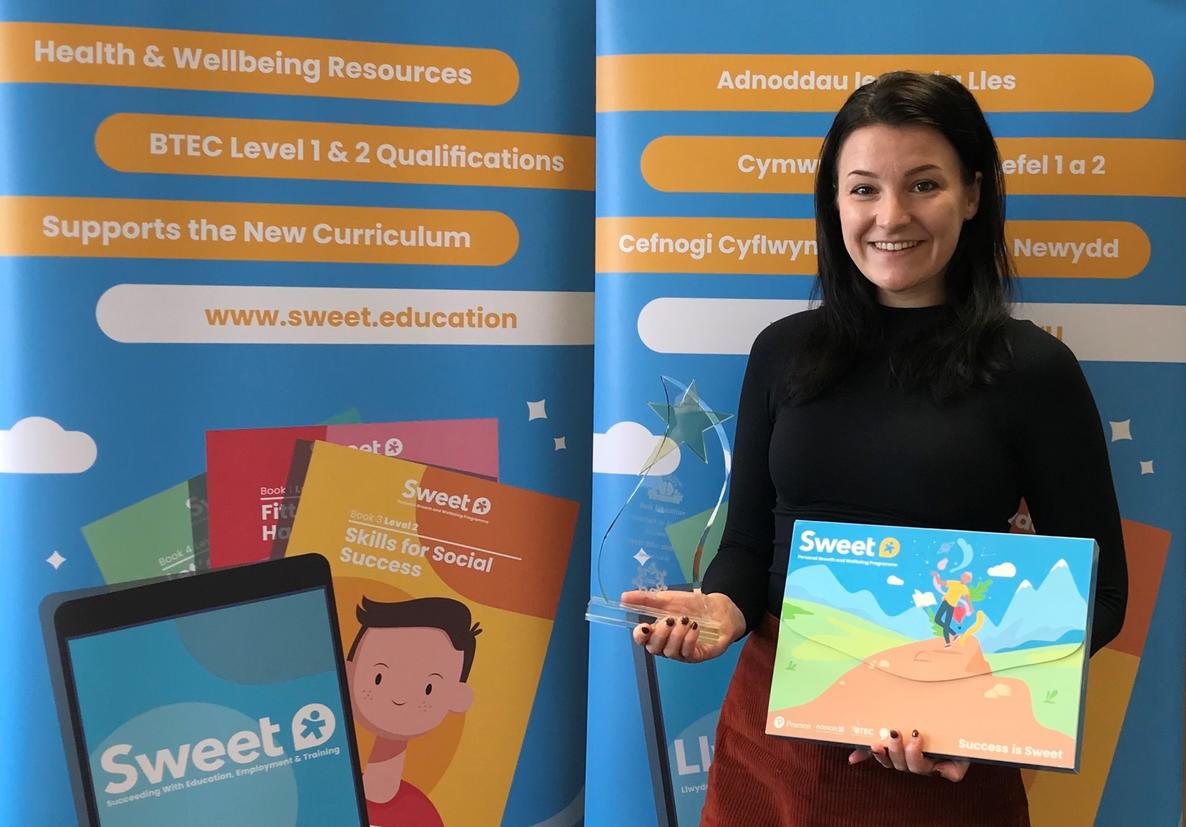 The judges were also impressed by Sweet's impact on students' social and emotional wellbeing, and how the PGW helps to successfully prepare young people for life as adults.
As a small team of less than 10 staff, we were absolutely over the moon to achieve this award! The whole team has put so much work into creating the resource and making sure that it does a great job of supporting students' mental health and wellbeing. It's phenomenal to know the amazing impact it's having on students.
Get involved in Children's Mental Health Week with Sweet Education
The theme for Children's Mental Health Week 2023 is Let's connect. At Sweet, we're running a competition with two ways for students to enter.
Firstly, students can choose to design an app that encourages people to connect in a safe way that promotes wellbeing. In the template, students can explain their app, tell us how it connects people, and provide images of what their app might look like.
Or for those who prefer writing, we're asking students to tell us about their favourite way to connect with other people, why they enjoy it, how it improves their wellbeing and how others can try their method.
I'm afraid the app won't be created – the ultimate goal is getting people thinking about their own wellbeing and ways in which they can connect with other people. 
Here are some important details:
The prize for the winner is a brand-new iPad.
The competition is open until 3 March 2023.
All schools and students aged 11-16 are welcome to enter, even if they don't currently use our resources.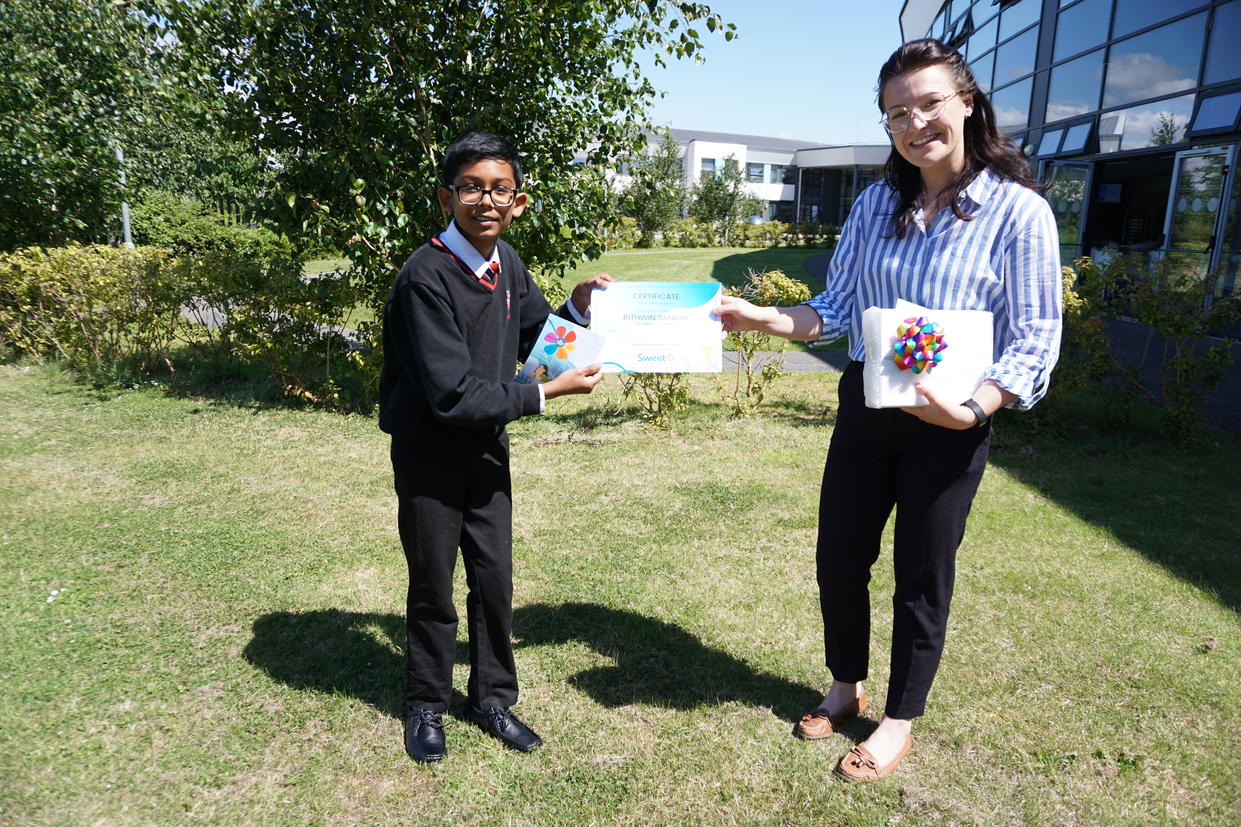 Interested in entering?