Royal Parks Half Marathon
Enjoy an iconic and picturesque half-marathon race through four Royal Parks in London.
Royal Parks is an iconic and picturesque half marathon race through Hyde Park, Kensington Gardens, St James's Park and Green Park. You will pass some of the capital's most historic landmarks, including Buckingham Palace, the London Eye, Houses of Parliament and the Royal Albert Hall. The course is not hilly and is great for either experienced or first-time half marathon runners.
Young people need our support more than ever. Schools may be open, but the case of educational inequality is far from closed. Sign up today to make a difference.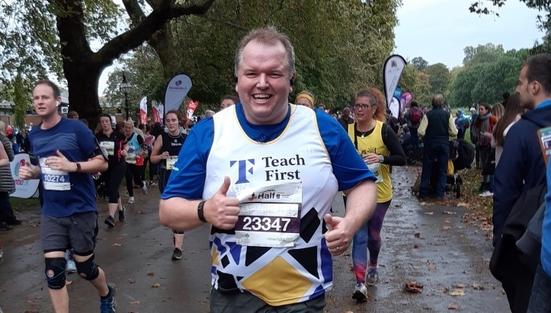 How to Enter
Charity place
There is a £25 registration fee per place, or if you register a team of 5 you can register for £20 each. We ask that you commit to raising £300 per person for Teach First.
Register your interest by emailing us at events@teachfirst.org.uk.
Own place
If you have your place in this event, you can still run for team Teach First. Email us to let us know and we will send you your running kit. There is no minimum fundraising target if you have your place – please just fundraise what you can! We would love to have you on our team.
Why join Team Teach First
The UK's poorest children have always had to work harder to keep up with their wealthier peers at school. COVID-19 has made it worse. All children have big dreams. But not every child gets the chance to make them a reality.
We know that when we get the foundations right for disadvantaged pupils – great teachers, brilliant leaders and thriving schools – all young people can have the opportunities they deserve.
Great teachers - We recruit talented people to become teachers and place them in the schools that need them most.
Brilliant leaders - We develop strong leaders, so schools can create lasting change at every level.
Thriving schools - We help schools to build a thriving community, with supportive networks and positive government policy.
By fundraising for Teach First, you can help build a fair education for all and put an end to wasted potential.
Our Support
Run with us and we'll provide: 
a Teach First technical running vest
a training plan
our fundraising pack full of ideas
dedicated support from our Events Team to prepare for your challenge and smash your fundraising target
We understand COVID-19 may cause uncertainty around events being postponed or cancelled. We're working closely with all parties involved and will update this webpage if and when details change. If you've already registered for one of our fundraising events, you should hear directly from the organisers regarding any changes.
If you have any questions, please contact us at events@teachfirst.org.uk or call us on 020 3862 8420.